Always on the go somewhere, Edwina Alexander-Tops is one of the busiest riders on the show jumping circuit – whether it is travelling to shows every weekend or representing luxury brands as an ambassador and designer. We had a chat with her in between classes at the Helsinki Horse Show.
By Camilla Alfthan
WE SEE YOU every weekend at different shows around the globe. How do you keep up ?
It's hard. You have to be pretty organized with everything at home. It's a little bit of a pattern that you get into; a routine, and you just get used to it. What keeps you going is having good results. I have some interesting horses coming up and I love a challenge and that's probably what keeps most people motivated.
Since I've been doing the sport at a high level – which has been more than eight – ten years now – and travelling a lot – it's got more and more. Last year I counted that I did 46 shows in the year. They used to have a period when January was not so much and you'd start the second week of February but now it starts straight away. I have from now and until March every weekend a competition.
How did it get to be like that?
The problem is the way the ranking system works; it kind of pushes you to have as much as possible eventhough they say they'll have the best 30 results.
There's so many riders now, and so many who want to be in the top, which is great, but there's a lot of shows and it's not just hard on the riders but also you need enough horses to rotate, you need enough people to be there and not get too tired because they travel all the time.You need good grooms and you need good support behind you, good people at home. I have ten horses and two riders, two grooms and one on the road and one helping in the office, so six people, not including Jan, to manage and be on top of things when I'm not there.
You're also involved in fashion.
I like it, I'm someone who gets bored very easily so I like to keep going, and I have Gucci and also Jaeger-LeCoultre and interviews and photo shoots, functions and dinners, I have to do for them, which is quite nice because I meet a completely different world of people.
I love fashion and being involved with Gucci, I've been busy putting together a new equestrian collection. We did the last collection three years ago and I've just done an update for a whole new collection that I should have in the next month or so, just for me.
I went a few times to Rome and just looking at all the technical materials and understanding it.
They haven't had much experience in the sports side of it so it was nice to have a good mix of my knowledge of what kind of clothing we need relative to the fashion world. I went to the opening of Gucci museum a few years ago in Florence where they showed their history with horses etc. It's changed a lot and its gonna keep changing. Frida rides and understands it very well.
"I love fashion and being involved with Gucci and I've been busy putting together a new equestrian collection."
There's more fashion now in the sport.The materials that we use now are a lot different. I think its good to still keep the classic look that we have with the riding jacket but it's also time to have a little bit change. Some brands have gone one way, with a little bit too many sparkly things but I guess that's just a matter of personal taste
So basically, you're designing things you can wear in and off the saddle.
Yes, there's a casual look to it. I think it's opened up a lot of doors from outside which is really what our sport needs; we need people to want to understand more about our sport. There's a lot of celebrities riding, Jeniffer Gates, Charlotte Casiraghi, Jessica Springsteen, which brings a lot of different media attention. I know from my side I do more fashion magazines. People are not going out to buy a horse magazine, to read about fashion, so it's a limited world within the horse world and it's great to bring that attention.
It's amazing that there's so many people outside somehow related to horses, they've ridden before or they've got a friend that rides or a friend that breeds, or someone who owns race horses. There's always a connection, and I've come across that so often which I think is why our sport is huge and it reaches out to so many different people. People in general love horses and if you see a lot of the big brands there's in some way a connection with horses.
Edwina in Helsinki, where the ice hockey arena once a year becomes a show jumping arena. Ph. C. Alfthan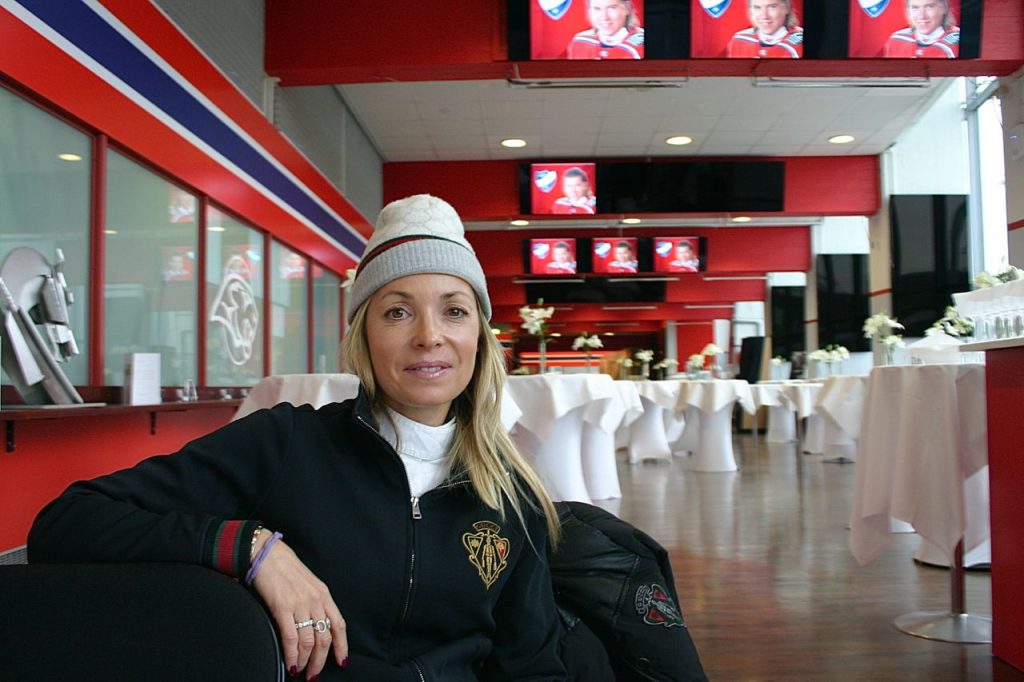 What is in your stable now?
I've got some interesting horses. Fair Light is going to jump the Grand Prix today and tomorrow we have the World Cup. She was very good in Oslo and she was placed in the Grand Prix, so she's coming up and I think she's very interesting. I just need to take it a little bit slowly with her. Then I have a very good mare that has been out a little while and she's back again, she's 11, her name is Tequila, and I think she's going to be one of my best horses. I have one very good seven-year old, I have a good eight-year old, and both are relatively new horses. Ego is there mainly for the championships and the Global Tour, we've had a great year, though we have to learn to go faster. Guccio is back now, he's going to start in Verona and of course Chappie and my new 7 years Clinton which I'm very excited about. I'm very fortunate to have my horses and the support from Jan.
Does Jan find them for you? How do you work together?
We work together a lot, sometimes he goes to look at a horse, sometimes I go, or we go together. People send horses to us. But yes, we know what we both like and what suits me, though it doesn't necessarily have to suit me. He's also away a lot, now in Morocco training the boys there for Qatar so he's very busy with the Global Champions Tour.
The GCT is called the F1 of show jumping; did he know it would evolve like this?
Jan has incredible vision, he believes in what he thinks, and he never ever gives up. He always has a goal and I've never seen him not reach it. It might take longer than he expected but he always gets there. I know that this was the idea of the Global Tour, he's had this idea many years before he started and it was just a matter of putting the pieces together.
We started in 2006 with just six shows and now it's accumulated to 14 shows so it's amazing. I think there's a lot of really exiting plans to happen in the future so I think it's going to develop the sport to a different level and that's what we need. It's been so long at the same place and the value of the horses are going up therefore the prize money needs to go up as well. And then you have more people investing in the sport and more people who want to keep horses for riders. And riders can actually now have a good income and make a living out of it which they couldn't do before.
I remember Aachen where the Grand Prix used to be 150,000 euro and when the Global Champions Tour put their limit higher they had to go higher, too, and now they're up to a million. So it's really fantastic because it's not only just about the Gobal Tour; it's pushed the rest of the sport.
The only thing in my opinion that there is a weakness is the indoors. There's not enough money and you still have to jump as much so that's another aspect of the sport that needs a lot of improvement. For sure there are some fantastic shows, like La Coruna which is 500.000 for the Grand Prix, and Geneva which is 350,000 so it's already starting to come up a lot and that's great. I think Jan has revolutionized everything.
There's also a lot in a horse for people to connect with.
Yes, and it also an interesting sport because it's a lot about combinations, putting the right horse with the right rider and having a great match; you know these special combinations like Shutterfly and Hickstead; these combinations that are unique.
And also the fact that as a rider you're competing together with another athlete which is the horse. They also have a brain, you train them in your way and that's another side to the sport that I think people don't understand.
And then there's the fact that men and women compete on the same level which has opened up a lot of eyes to the public. The reason why women are now more succesful than they were maybe 15 years ago is due to the change of the breeding, it's allowed women to ride with much more finesse – the sport is generally more about finesse than strength.
"The horses also have a brain; you train them in your way and that's another side to the sport that I think people don't understand."
The style of horses has changed a lot, people are breeding more blood into them, because everything is changing, the footing has changed, the jumps have changed, the equipment has changed, and everything is getting much more sophisticated. So we need different horses as well.
So how do you make your horses – how do you train them?
I think it's important to have a good bond with a horse. They are extremely perceptive to people. They feel when youre not happy with them, or when you're nervous, they're so sensitive and so vulnerable.
It's very important for the horse to trust you. I wish I could spend more time with my horses. I love them all and that's important, that they feel that you appreciate them and respect them. They're not all machines, Shutterflys or Itôts, they all have their ways and they like people. Some are better athletes, some are faster, some are slower, some have better reflexes, some don't have quite as much push or power.
They're a lot like people in that way and they all have their days. Sometimes the mares are not happy and the stallions don't want to do anything. So it's really about understanding the character of the horse. One of the most important things in a horse is the attitude.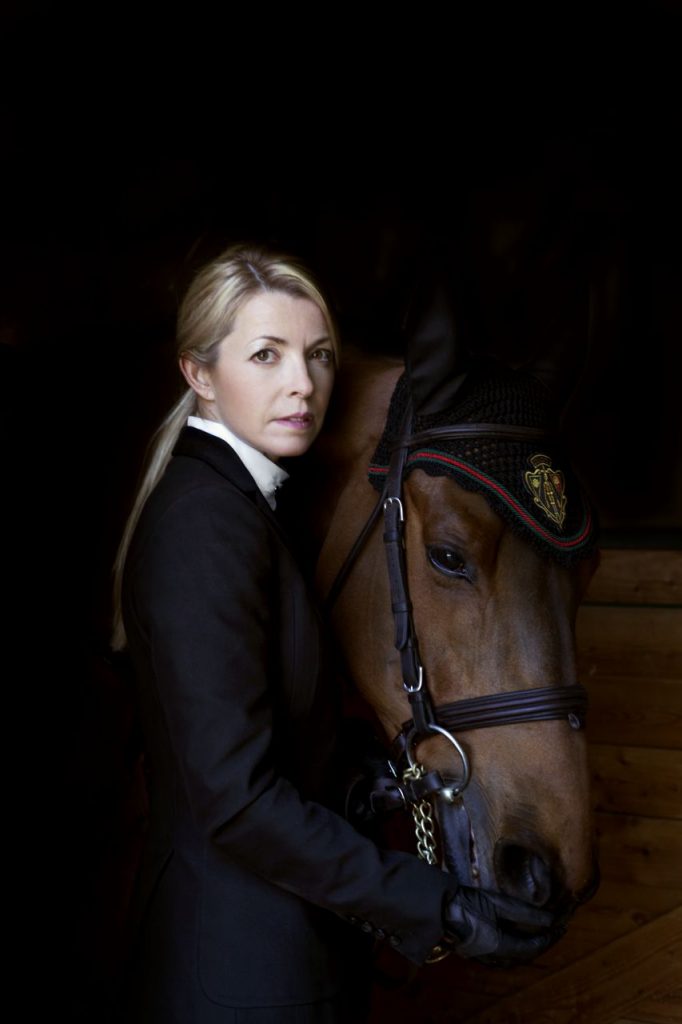 You seem very involved in many aspects of the sport – we often see you in discussions with other riders.
It's important that riders talk together about the sport and how it needs to develop because in the end it's our career . I think the riders must be a little bit stronger about staying together for the sport. There's a few issues at the moment and I don't think the riders have a lot to say.
In the world championchips, there were a few top rider-horse combinations that had already decided not to jump the final if they qualified already prior to the event. I think this says a lot in itself and there is obviously a very good reason why. Everyone appreciates to win the gold medal and it's an amazing achievement and everyone has a lot of respect for the champions.
But talking about the welfare of the horse and then having our horses jump so many rounds really does take its toll on the horses. After such championships there are not many of the horses that are in the final that come back the same. And this is proven if you look back at Aachen and Kentucky.
I think it's not just about money but if you're going to jump and use your horse – and at the end of the day you don't have much of a horse left – then what's the point?
Better keep your horse for other special competitions where you can get more out of it because no one is going to give something back to you when you're horse is on three legs.
I just think that we have to be stronger together. We say it every year the WEG is on and nothing happens. If everyone complains a lot and can't get anywhere then the riders don't have much strength.
If you see Barcelona they won a lot more money than they did in the world championships. Same team, same horses. There's one thing about having prestige but it's another thing having a reward.
No one else is going to come up and give you a horse for several millions or find you one, or repay your horse.
"It's important that riders talk together about the sport and how it needs to develop because in the end it's our career."
You watch many of the other classes and obviously you're enjoying it..
It's interesting and you learn by watching how someone else takes a few seconds off in a class, what they're doing down the line. If you know your horse hasn't got much stride you're going to watch pairs with a similar stride, though some times you're better off not watching at all because it might confuse you. It's all about painting a picture in your head and trying to visualize what you're going to do and how you're going to do it.
How did the horses become so expensive?
That's because they're in such demand. If there were a 100 top horses around today it wouldn't be quite so demanding and so expensive. They're unique. So people are paying other people to build horses because they don't have the time or the way to do it. A good horse is a good horse. It's a matter of training the horse in the right way and finding what's best and the most important aspects of that horse to build on.
Everyone needs a good horse. You can be a good rider and get away with a less good horse, but to be at the top you're only as good as what you sit on.
So if there's more money in the sport riders don't have sell their best horses. That's the whole point.
You're always doing really well in the Global Champions Tour, why is that?
I don't know, its just a good feeling when I'm there, and I have a lot of support, good vibes and positive feelings. I've won the tour two times in a row, I've been third, fifth, seventh and now I'm in the running. I love the competition, it's exiting and has a good atmosphere.
All the shows are different and this makes the tour very interesting. The locations are all in special places all over the world and its difficult for me to say which one I like the best.
When you began did you have any clue as to where you'd end up?
I grew up in Sydney and I was a fitness trainer. I went to university and got a bachelor in physical education, so I was always brought up in the city, I worked in the city and I was riding, too. I love sport and I could mix the two together.
It wasn't until I was 23 that I thought, 'you know what, I have to make a decision, I can't just go on being a fitness trainer, there's no future in that' although I loved it.
And I just wanted to go to Europe. I really wanted to be a fashion designer and I studied that for a while and learned how to sew and make patterns but I could not draw. At that time you had to draw.
Now no one now does it, so my timing was wrong, but it was something I always had a passion for and who knows maybe it's something I'll get more involved in when I'm retired, maybe with Gucci or some other brands. I'm now 40, and I dont want to be 50 and still compete 46 weekends a year.
Are you going to have kids?
I'd love to though time is running out so I have to get organized for that. In my career with what I've done I could do that, also things have changed, a lot of women are riding who have kids; look at Pénélope and Meredith and Marlin. I love kids and giving things back to them, and it's also something that I'd like to get involved with later in life. I like to inspire kids and give them hopes and dreams. For people to understand where your roots are and to keep your feet on the ground. Be greatful for everything you have."
©
Edwina tries some dressage in Chantilly, photo Pascal Renauldon.