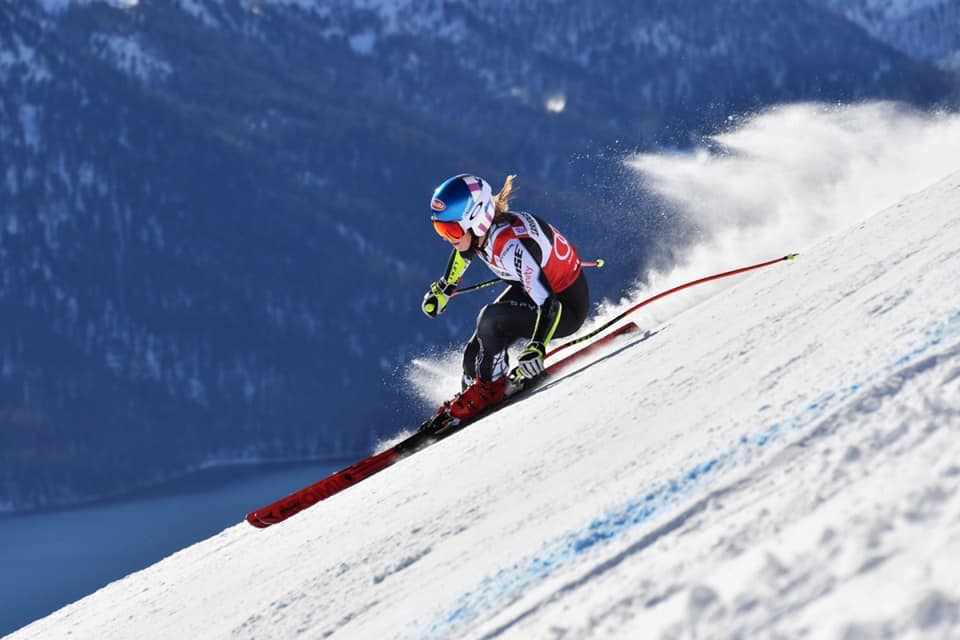 November 30th, 2018 was nothing short of spectacular for Mikaela Shiffrin: On Lake Louise in the Canadian Rockies she wins her first Super G, joining an elite group to win all five major disciplines in alpine skiing.
As Mikaela Shiffrin's records keep piling up, she prefers to ski for herself rather than the results, she tells.
By Camilla Alfthan
AS THE  YOUNGEST athlete ever to win Olympic gold in slalom, Mikaela Shiffrin has had some memorable moments in her stellar career.  One day that really stands out is the day she won her first Super G – the alpine speed event in the World Cup series that she was missing.
"When I was a little girl I was dreaming of being able to win in all of the skiing disciplines and I didn't expect that it would happen so quickly. And then to do it again the next week in St. Moritz was even more incredible. It was really special to know that all the hard work is paying off," tells the 23-year old during a training break with her boyfriend in the Norwegian fjälls.
On the world circuit Lake Louise is one of the most quiet races, surrounded by endless forests of pines and the majestic ridge lines of the Canadian Rockies. Most people have to fly here and the stadium only has room for a couple of hundred fans – a stark contrast to the previous weekend in Vermont where almost 40,000 people attended.  
"For me it's really nice because you're not focusing on all the distractions and who is around. You're just doing your skiing. It's almost like going back to when I was 12 or 13 and racing and the only people who were watching were the parents and the court workers," tells Mikaela Shiffrin.
As the clouds were coming in when she was getting ready in the starting gate, her coaches feared that it was going to get dark and effect her run. 
"I was like, 'I don't care if it is cloudy or sunny. I know that the weather can change. It doesn't matter, I'm still going to follow my plan and ski how I want to. To really go aggressive and attack the mountain.' When I have that mind set it's a cool feeling. There's a little bit of luck in it, too, but if you stop worrying about whether you're going to be lucky or unlucky then you kind of take luck into your own hands." 
Just one week later, Shiffrin won her second Super G on the tough and tricky course of St. Moritz in Switzerland. She also won the parallel slalom – a new city event which means that skiers now compete for six disciplines instead of five which adds a lot to the schedule.
"The event itself is harder on our bodies than any other event. My back is still sore and it's been five days now. I couldn't ski for three days because I was totally done," she tells with a shrug.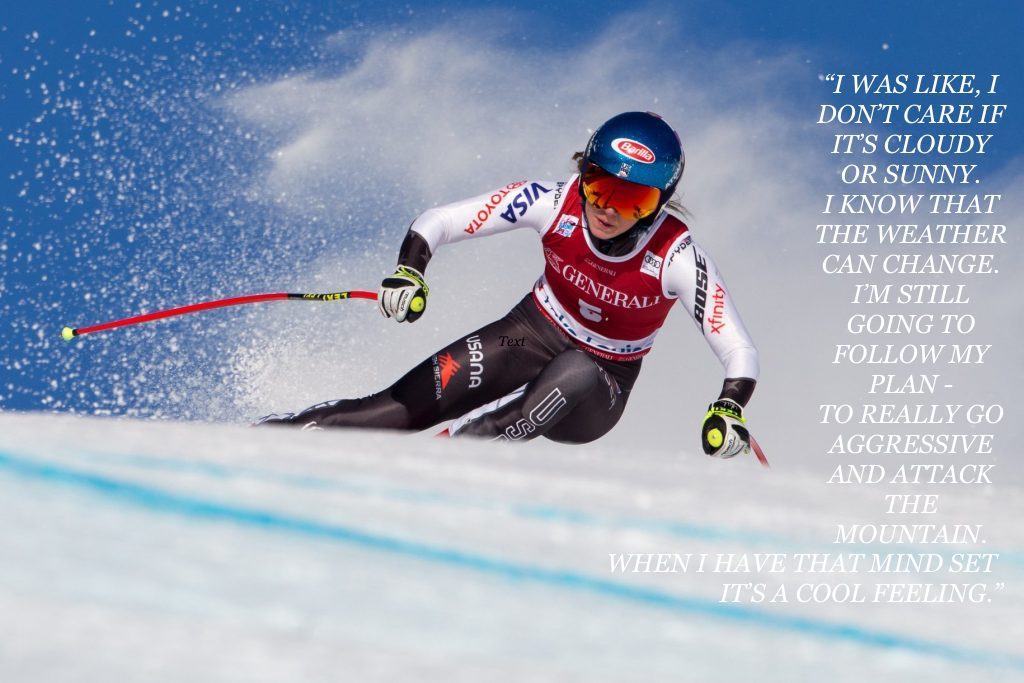 Mikaela Shiffrin attacking the mountain in Lake Louise in the Canadian Rockies.
For the American prodigy, skiing was always a way of life. She was only two and a half when her parents began to teach her at home in their drive way. Later, they took her to local championships with her older brother where she caught the skiing bug.
"My first memory is probably skiing in the Nastar ski racing programme, where there's a lot of different mountains where anyone can go. You just start and they say who has the fastest time within your group. That's a really fun thing to do. I was skiing with my brother and my parents. That was one of the first things that got me a passion for the sport. I always wanted to race and I always had that competitive spirit."
Her boyfriend is the French giant slalom specialist, Mathieu Faivre that she has been dating since the summer of 2016.
"He really understands how it feels to be at the top level. There's so much passion and we both want to win. If something goes wrong it's so frustrating and heartbreaking. I think certain people would not understand; they'd think 'whatever, who cares' and he can help me in so many ways. One of the biggest things is being able to talk with him."
Above all, Shiffrin skis because she loves the sport.
"Every event is different. It's a like a puzzle and I love that part of it."
"I love to go powder skiing and free skiing but right now my biggest passion is training and racing, and I love to feel the speed. Every event is different. When I'm working on my skis and my technique I feel how I'm improving and I see the results in the races. It's a like a puzzle and I love that part of it – to piece the whole thing together."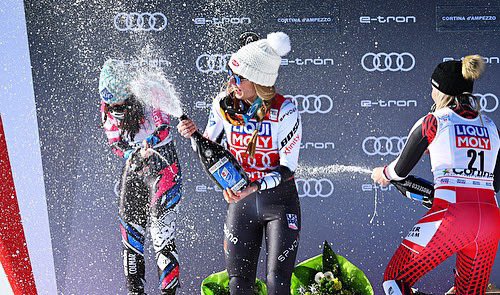 In 2018 she became the first skier ever to win 15 World Cup races within a year.
Her goal is not to win more world cups but to be one of the world's best skiers of her time.
"If I think too much about my wins then I stop winning. I have a tough time thinking too much about the result and not about working and training to get better.
It's about putting in the time and the hard work, but also doing it right so it works.  A lot of athletes could win many races, but maybe their ski equipment is not quite at the right level to give them the speed that they need. That's one small detail that can make a really big difference.  It's also managing you time to have the right amount confidence and right level of preparation so you have the right energy. I think we have good balance of that in my team. Right now it is working, but that is not always the case."
Although the skier herself downplays her many feats, it hasn't stopped the experts analyzing Shiffrin's astonishing achievements. In 2018 she had a total of 51 World Cups as the youngest skier ever. If she continues like this she could beat Ingemar Stenmark's record of 86 victories in just a few years. But that would not change anything, she reflects.
"Stenmark is one of the biggest legends in our sport and he'll always be that."
"Stenmark is one of the biggest legends in our sport and he'll always be that. People who know nothing about skiing remember Stenmark. He made such a big impact and you can never take that away. You're not able to compare, really. He was in a different sport. It has since evolved  – the skis are different and the technology; all these things are different. If you're the greatest now, maybe you'd have to have 120 wins."  
Her all time favourite is the American champion, Bode Miller for his style, which was sometimes very reckless and exiting, just like his personality. Now she's the one who's captivating huge audiences.
"It's hard to believe because I'm inspired by others and I still feel like when I was 12 and watching Bode compete and hoping that maybe I could get his autograph on my helmet. For sure I'm at the level as one of the best skiers of the world. But it's also very easy for me to remember those days, and feel that it is impossible for me to be in this position right now, because I still feel like that little girl." ©
Mikaela Shiffrin
Born 1995, Vail, Colorado, USA.    Family Jeff and Eileen Shiffrin, brother Taylor.   Profession Alpine skier.   Skiing background Her parents were competitive skiers who took her to local championships where she could race.    Current Leads the World Cup series.    Travels  With her team and some 70 pairs of ski.
Highlights
2013 Her first US slalom championship.    2014 Her first Olympic gold medal.    2017 Her first Overall world cup title.  2018 Olympic gold in giant slalom and silver in the alpine combined. First skier to win 15 World Cup races within a year. Most successful female Slalom skier of all-time (36 World Cup wins).  First skier to win all five major alpine skiing disciplines of the World Cup plus the new parallel discipline. A total of 51 World Cup victories, as the youngest skier ever.    2019 Won two gold medals at the World Ski Championships in Åre – a Super G, and a record fourth-straight slalom title. 2023 Eclipses Stenmark's long standing record with a stunning 88 World Cup wins.
Favourite skiing destinations
Åre, Sweden. "A really nice mountain to go skiing. When the lake is frozen, there's lake races, ice fishing and hockey. The town is really cute and Christmassy." aresweden.com.     Courchevel, France. "Very high end and expensive, with wonderful hotels, amazing food and a beautiful mountain with really nice powder skiing." courchevel.com      St. Moritz, Switzerland. "The town is beautiful, and there's lots of après ski. It would be so nice to have a couple of days off where my boyfriend and I could just free ski." stmoritz.com.     Zermatt, Switzerland. "I've been there skiing with my parents. It's a really cool and unique place with a glacier that you can ski on in the summer." zermatt.ch.     La Cortina d'Ampezzo, Italy and the Austrian side of the border. "It has perfect skiing and the topography is beautiful with the rock formations of the Dolomites. It's a place we always love to go to." dolomiti.org.     Lappland. "I'd like to go back when it is dark most of the day and feels like Christmas. It's a really different and cool thing that I think a lot of people would enjoy experiencing. Last year in Levi I saw a small green shift in the sky and I'd like to go back outside the town to see all the different colours of the Northern lights." levi.fi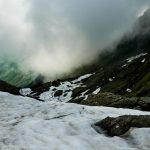 MORE STORIES