At only 17, Reed Kessler was selected to compete at the Olympics as the youngest rider ever.  She's since been no. 1 in the US and she's run her own competition stables in the Netherlands. At 24, she's back to school again.
By Camilla Alfthan, photos Reed Kessler
"I'VE BEEN riding my whole life and my parents have been riding for over 30 years. My dad was my trainer, Katie Prudent's first customer and Katie is my godmother so I've always ridden.Even when I was younger I was always the younger person doing bigger classes than most people their age. I started doing the senior international classes when I was 15 so I've always pushed myself ahead to do bigger things. Katie always pushed me to do bigger thing so that's probably why I've gotten here so fast," said Reed Kessler when we met at the Gucci Masters in Paris back in 2012. Just one year later, Reed became US National Champion while her all-time favourite, Cylana, a Belgian warmblood, was named Horse of the Year in her native country.
ABOUT STARTING EARLY
"I've been competing my whole life. I first sat on a horse when I was six months old. My parents used to put me in a basket and tied it onto my little pony and then they would tie my stuff onto  the trees so I would steer to get them. My whole life has been about riding and following my parents who competed in amateur shows. It runs in the family and it was all I ever wanted to do. My parents and I are very competitive. I love horses. Before my dad's career really took off we would have one or two horses at home and my mum and I would take care of them and the pony in the back yard. Besides just riding I love taking care of them. Its been part of my whole life."
"I was always the younger person doing bigger classes than most people their age. I've always pushed myself ahead to do bigger things."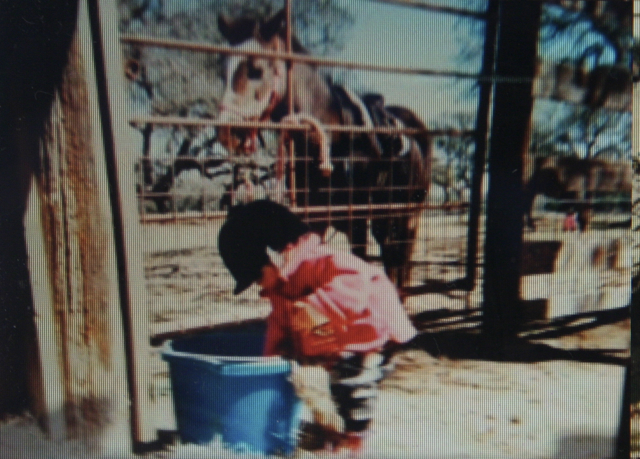 HER HORSE POWER
"They're a little bit like my babies. My guardian was my first junior horse who is one month older than I am. I had him for six years and I first rode him in the children's classes, and then high junior. When I went in the seniors he became my speed horse. It's like I had him forever. And we would always joke that he was my boyfriend because he was one month older than I. Another old friend is turning 19. I gave him to my father who is doing some smaller classes on him. I love him so much. He was getting a little old so it was time to step down. When I was younger I'd ride a lot of other peoples horses and ponies. Now, I have a great string of horses. Cylana is my best well known horse since I took her to the Olympics, and I also had a second horse that finished as second reserve for the games. His name is Mika. And I have a couple of speed horses that fill in the gap but those are my two big horses."
"Cylana is my best friend. She's a spectacular horse, in my mind she is the best in the world. An amateur in Switzerland had her and he was only doing small one star classes. Then the a family bought her and she did a few, small classes with their daughter – 145cm but never anything bigger. When we got her she was unfit and a little fat and in a very short time she went from having no experience to jumping clean in the trials. It's like shocking how quickly she turned around. I can't say enough good things about her. She's incredibly smart. Every time you ride her she wants to do exactly what you tell her and quickly. She's way smarter than a horse. And she has the biggest heart of any horse I've ever sat on."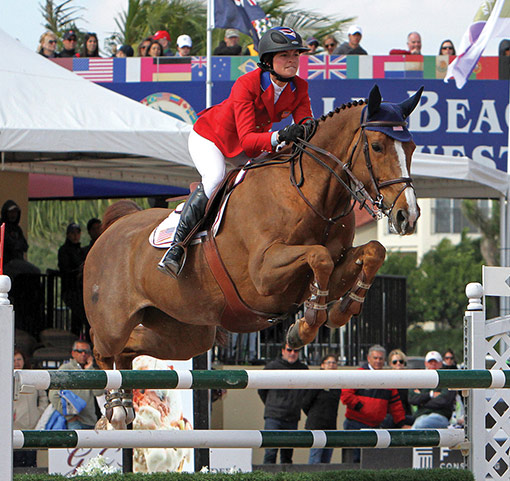 In Miami Beach on Cylana – Reed's favourite of all times
HER FIRST BIG MOMENT
"My first big moment was the Olympics trials. No one including myself expected me to do as well as I did so that was a huge moment. Besides just being around this incredible group of good riders I was also there with this incredible group of athletes. To think that we were all there and had earned it was just crazy." And then from there it was just to prove that I could do it consistently, that it was not just one spectacular week. So it's about being consistent. Kentucky was a big moment. And then Calgary couldn't have gone anybetter, we just dominated it so that was also special."
"I'm one of those people who really likes pressure.

 

Sometimes when there's not a big enough atmosphere or when it's not as important a show it can make me a little casual."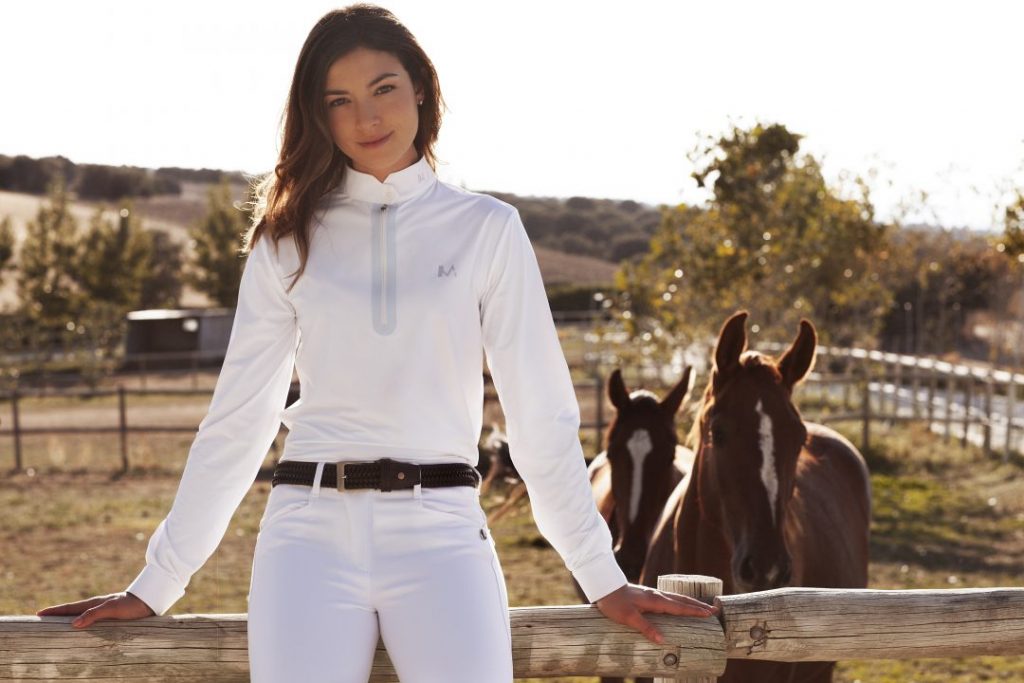 Chilling out in Spain for a photo shoot with Manfredi Equestrian.
DEALING WITH PRESSURE
"I'm one of those people who really likes pressure.  Sometimes when there's not a big enough atmosphere or when it's not as important a show it can make me a little casual. So I really like high pressure situations, where there's no room for air. It brings out the best in me and I think it brings out the best in my horses to. They sense it's a big moment and that that's important. 2012 was the first year that I was old enough to do the two stars. I try to stress that as much as I can. I've had so much success in the past year but I'm only a teenager."
KEEPING UP SPIRITS
"There's always ups and downs in the horse business. Dry spells. I'm so lucky to have a good group of horses but anything can happen. So you should really enjoy every show at the time. I'm having fun. Every experience is a new experience at this level. Maybe when you're older, you're like, oh I showed in the Paris Grand Prix ten times and its nothing new. But when your my age everything is new, everything is exiting!"
BUSINESS & FUN
"We stayed at the Fursan stables in Chantilly a few days before the show, and then we went to Paris. Some friends came here to do the two star; they'd never showed in Europe. We went to the Gucci party and we'll go to Paris tonight. I've shown in Paris since I was thirteen. It's a crime, really, not to enjoy the city when you're here. We're so lucky that many of these shows are in the most beautiful places. We get to travel the world and see all these incredible places while we are working. I was raised at the horse shows. So my whole life was going from show to show every week. I'm never home. And that's how I was raised. So when I do stay at home a few days it's weird and I don't like it. I'm more at home in a hotel room.
"My whole life was going from show to show every week. When I stay at home a few days it's weird and I don't like it. I'm more at home in a hotel room."
When we're in Florida, where we have a farm for the tour, we're there for four months and everyone from the horse show is living together and you're all at the show. So its not like being at home because there's so much to do and everyone is around you. But when we're in Kentucky its a little more quiet and after I'm there for a few weeks I'm ready to travel again. I love adventure. I don't like to sightsee or go to a museum. But food and shopping is how I like to discover a city. This is all I've ever done and I dont see doing anything else."
HORSES AND LUXURY
"The sport has really picked up a luxury image now. Ten years ago you wouldn't see a show like this. It always had a lot of prestige but the sport has developed, there's luxury brands, luxury sponsors. The Global tour is fantastic, with fantastic prize money..it draws in people like the more mainstream sports. Technology has developed. Everything is streamed live which has made the sport more accessible. I think it is really cool that the sport is becoming so global. The technology that we can now go to places around the world. If you have a horse that travels well…it's just another plane ride."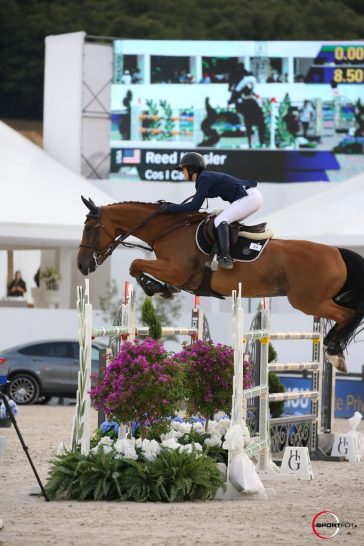 Reed Kessler on her horse with the apt name; Cos I Can, photo Sportfot.
IMPROVING HER SPEED
"The speed is something I've really been working at. Sometimes I'm not as good at turning back and Katie's been working me really hard at home to get better. So I've been really competitive in each jump off and I'm really proud of myself that I was third in the speed challenge. That's a very fast class with the fastest riders. So to finish third was impressive for me. Last night was big too, I was just 200th off of Christian Ahlmann's time. So I'm really happy with how its going. My skills have improved so much. If everyone was turning on seven or eight strides I did it on six. I've been really competitive in jump offs and I'm really proud of myself."
HER SUPPORTERS
"Everyone's been great. Even if its only my first year doing above the two stars I've been in the senior division since I was 15, so I've shown against most of these people and we know each other. My parents are my mentors, but mostly Katie. Katie is highly respected over here so when you're with her people treat you nicely.  I grew up most of my life 45 minutes from Manhattan and I went to high school on West 60th right across from Fordham University so I'm a New York City Girl at heart even if we just moved to Kentucky. We're a really close family. My parents are the best parents you could have for this show. They are so supportive. Even though they do the amateurs they've been riding with Katie for many years; they're extremely knowledgeable. I can talk to them about the course, and they can help me and give me advice. It's a huge benefit. It makes us really close. It's hard for people who grew up with people who didnt ride. They ride great. My mum did the one star here last year. She won like every single class. "
A LITTLE BIT LEFT BEHIND
"The sport is not as well known in the US and we have nothing like the shows in Europe. Besides Washington DC the atmosphere is not the same. We would never get a crowd as big as here, even yesterday for the 1.50 class it was packed which I think that is terrific. If I go to a show in the States, I have to put up thousands of dollars of entry fees and stall fees. Here it is free and the prize money is better, just as the atmosphere and the crowds which are amazing. It's great if Europeans will show how a really professional, glamorous five star show should look like.
"I'd love for my country to have the strongest shows in the world. That's how it used to be."
We used to have Madison Square Garden, but that was before my time…When you look at the pictures it was something special. New York socialites would come out in gowns and dresses. It was a huge social event. No one could miss it. Everyone who was anything was there and it had a fantastic atmosphere. After it ended the sport lost a lost in our country. We've had great shows and great money. We have some of the greatest riders and shows that have a lot of history. The sport has become more modern, but they are still a little bit left behind.
This fabulous bar, the schooling area where everyone can watch, the screen, the high end sponsors…all of it is missing at home.The biggest thing we miss out on is the atmosphere. When the three best riders here are interviewed during show is really special. They play loud music and get the crowds really excited…We try to explain it to our managers but they have to see it for themselves and bring their pen and paper.  I'd love for our country to have the strongest shows in the world. That's how it used to be. The best would come and do our Nations Cup indoor. They were fighting for who would get to go over there. So I'd love to help to get us back to that point. We have the North American Riders Group that my dad is on the board of.  I hope to start taking part in it. I was a little too young before..hopefully I'll start getting into it."
ONE DAY YOU'LL LOOK BACK AND SAY….
"That was crazy! I'll have a bad 17 year old daughter and I'll say, "when I was your age I was…go do your homework!" We were joking last night that it is supposed to be the end of the world on December 21st. And I said; if the world ends I did all possible to see her. I've had the year of my life and I'm ready to go. ©  Interview at EEM Masters. 
Reed has returned to New York where she attends Columbia University and continues to show on a reduced schedule, which now includes the Longines Masters of New York.
Reed speeding in Paris.